---
Home | About Marty Dread | Marty Dread's Music | Live Events | Contact Marty
---
Marty Dread - Hawaii's Reggae Ambassador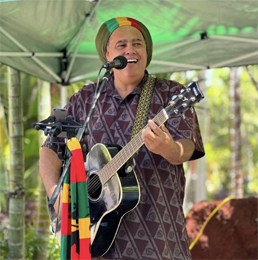 Marty Dread, known as Hawaii's Reggae Ambassador, has released new music for 28 years, including 20 albums. He performs throughout the Hawaiian Islands, the USA, and around the world.
See Marty Dread's upcoming events and appearances.
Listen to Marty Dread's conversation with Andy Kushner on the "Extraordinary Ordinary People" podcast.
See a video of Marty Dread with Sly & Robbie on Maui.
See a video of Marty Dread with Soul Syndicate in California.
In 2021, Marty released the album, "Treasure Box of Hits, the Errol Brown Remixes" (link opens in a new tab/window).
Marty Dread's music can be previewed and purchased on iTunes and other digital platforms.
Contact Marty Dread about media interviews, public and private performances, music licensing, and/or sign-up for his mailing list.

Note: Links to Marty Dread on Facebook, SoundCloud, and Twitter open in a new tab or window.

---
Home | About Marty Dread | Marty Dread's Music | Live Events | Contact Marty
---
Web: MartyDread.com

© 2022. All rights reserved.

Phone: 1-808-283-4295

E-Mail: info@MartyDread.com